It is our mission to provide an unforgettable adventure that will engage, exhilarate, and challenge.
Cape Fearless Extreme aims to deliver fun and excitement to all guests. Our courses require "hands-on" interaction. The level of preparation is minimal, but extremely important as safety always comes first at Cape Fearless Extreme.
All guests participate in a safety demonstration prior to adventuring onto the course. They are fitted into their harnesses and our Guides will demonstrate how to remain attached to the safety lines using our state-of-the-art CLiC-iT ® ADVENTURE safety system. Once the guest shows that he or she can properly use the equipment, they can begin their treetop adventure!
Kids Aerial Adventure Course
Ages 7-11
Children naturally know how to climb and scramble across obstacles, and our kid's course will give them the practice of managing their own safety lines and movement while honing their physical skills. Guests on our Kids Aerial Adventure Course have two hours to complete the course, and may loop through as many times as they would like within that time frame.
There is one children's course within our Park. Parents and observers can use the walking trails along the course to observe your child/children as they progress through the course. The course is not designed for adult use, but you will be able to get some great pictures while watching from the ground.
What to Expect on this Adventure:
Each child is scheduled into a brief group training session. At this time, the child will be fitted into a harness and our Guides will show the child how to remain attached to safety lines and how to use the "child sized" zip-lines. Once the child demonstrates that he/she can appropriately use the equipment, they can begin their adventure, supervised by a parent (or an adult standing in on the parent's behalf) from the ground.
Please note: Guardians must attend the training session (without equipment) along with the child and learn what to watch for in order to supervise the children in their care.
(don't worry, it's very straightforward)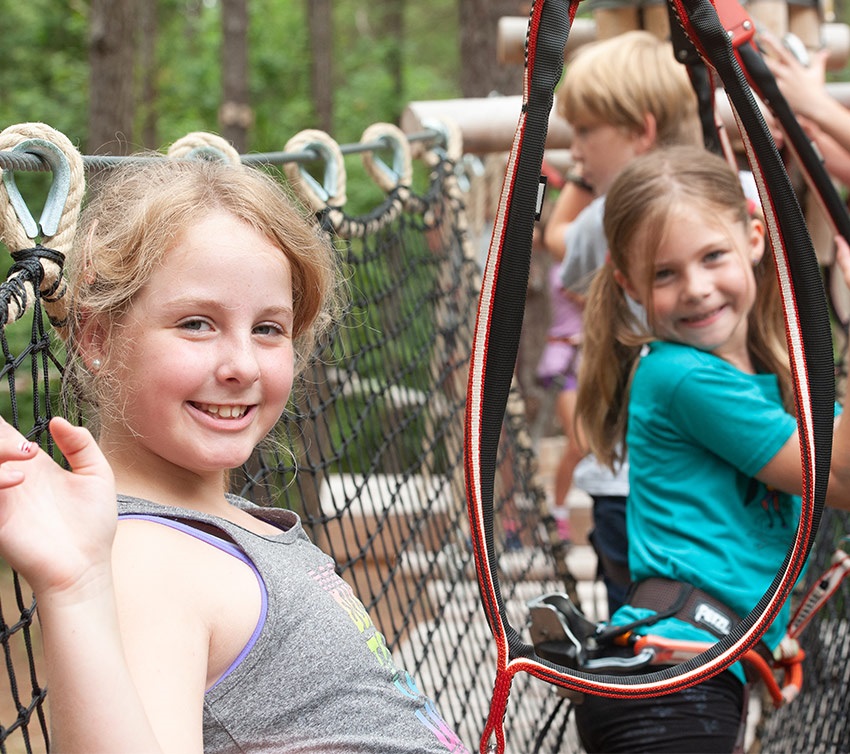 I took my 7 and 11 year olds to the kids adventure course. My 7 year old had never done it before and both had a blast. The instructor was terrific and made the kids feel very prepared with the practice course and comfortable and safe. The course was beautifully designed and the equipment was in great shape. The parents were able to track the kiddos with a trail around the course. Great times and we look forward to returning!
Christine on TripAdvisor