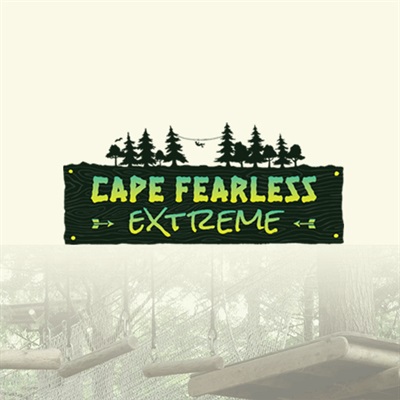 Cape Fearless Extreme Grand Opening & Ribbon Cutting
RIEGELWOOD, NC (USA) – June 8, 2018 – Cape Fearless Extreme, a new aerial adventure park, has set its Grand Opening and Ribbon Cutting date for Saturday, June 16, 2018. This family-friendly adventure is set on 25 acres of forest and includes four Adult Courses and one Kids Course.
"We are very pleased with the positive reaction from our park guests and the local community over the past few months," said Ronald England, managing partner, Cape Fearless Extreme. "It is our mission to provide an unforgettable adventure that will engage, exhilarate, and challenge, and we look forward to continuing to share that experience with our guests."
The park offers a mix of varying obstacles, cargo nets, ladders, and ziplines, constantly challenging guests to push their limits. All guests are securely attached to a safety line for the entirety of their adventure. The adult courses, for ages 10+, increase in difficulty and height as you progress, and can take anywhere from two and a half to four hours to complete. The kids course, for participants ages 7-11, will range from 6-15 feet in the air, and will not exceed two hours.
The ribbon cutting ceremony will take place at 11:00am in conjunction with the Columbus Chamber of Commerce and Tourism.
"June 16th will be a fabulous day in Columbus County," exclaimed Jennifer Holcomb, President, Columbus Chamber of Commerce and Tourism. "We are thrilled that Cape Fearless Extreme chose Columbus County to build its aerial park. This is a great opportunity for our economic and tourism development efforts. We know this will be a wonderful draw for visitors to come to our area as well as a great attraction for our local church groups, families, civic clubs, and corporate outings." Cape Fearless Extreme is open every day from 9:00 AM -5:00 PM. The Adult 4-Course Adventure Package costs $47.50 on weekdays, and $50.00 on weekends, while the Kids Course is $25.00 daily. Book your reservation by visiting www.capefearless.com, or for large groups, please call directly at (910) 655-2555.